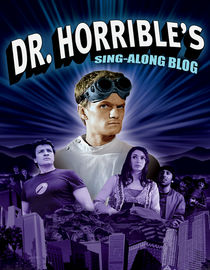 Found a treasure in the Netflix Steam,
Dr. Horrible's Sing-Along Blog
, 2008, 43 minutes.
It's a one off opera (technically a musical because there is some dialog and monologues). I really enjoyed the love story and romance. The music and lyrics are clever and easy to follow. I'll watch this story again.
Here's a
quote from the movie
. Dr. Horrible has a secret crush on Penny, a strong advocate for helping the homeless. She is talking with him and suspects that he in not very interested in her cause.
Penny: You're not really interested in the homeless, are you?

Dr. Horrible: No, [pause] I am, but... it's a symptom. You're treating a symptom while the disease rages on, consumes the human race. The fish rots from the head, so they say. So I'm thinking, why not cut off the head?

Penny: [pause] Of the human race?

Dr. Horrible: It's not a... perfect metaphor.
There is a website with the lyrics and such,
www.drhorrible.com
. There is a darling duet that Sharon and I are considering,
My Eyes
, here is a YouTube clip of the duet incorrectly titled On The Rise.